Branding vs. Marketing – Understanding the Difference Between the Two
This image shows the precise difference between branding and marketing. Source: Branding Compass
Although marketing and branding are two vastly different concepts, they are often mixed up with each other.
But what is the difference between the two? Continue reading as we break it down for you.
Marketing and Branding Concept:
Branding is "who you are" – it is the strategy and answering certain questions related to a firm's internal operations and culture. When a firm builds a strong brand internally is when it gives the same message to its audience and supports the values of the brand.
Alternatively, marketing is all about delivering the message of the brand using a set of tools and processes such as SEO, social media, PPC, search, mobile and other traditional methods. Marketing will develop with time as the products/services do and the strategy will change too, depending on the ever-changing trends.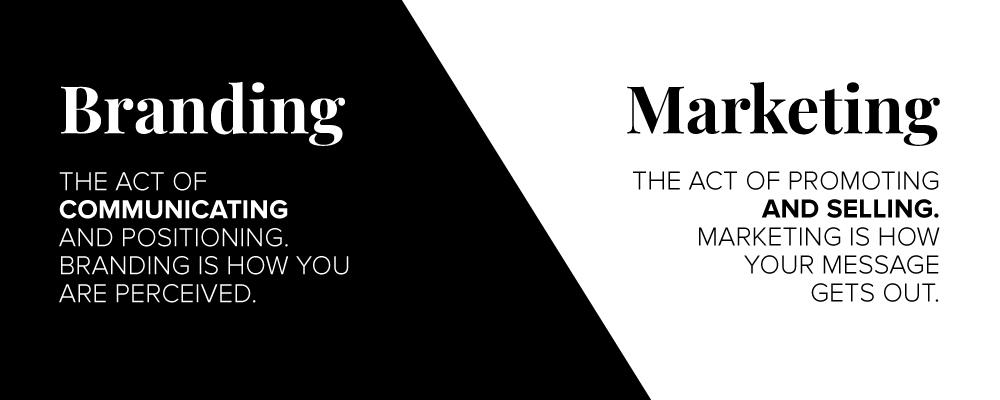 A summary of the difference between branding and marketing. Source: Studiothink
Branding or Marketing – What comes first?
Branding is the foundation of a brand's marketing strategy, therefore branding comes first in the process. It is imperative to define who the brand is, before devising a marketing strategy.
A brand is what makes the consumer stick and helps increase customer loyalty. Marketing strategy keeps evolving due to the changing trends, branding essentially remains the same. Although minor changes are acceptable in case of growth or expansion of the company. However, it will rarely ever involve a revamp of the core principles, mission, or values.
Moreover, branding is something that the organisation needs to act upon daily as it is a guiding principle of the way an organisation runs. Whereas marketing is how you display that culture through creative messages, to attract new customers.
Branding or Marketing – Overlap
Although the two are very different, the one place where they are similar is developing brand guidelines such as colours, graphics, logo. All these also play an important role in marketing as well as branding.
Conclusion
Still unsure about the importance of the two? Remember that you may have developed the most effective marketing strategy, however, without strong branding, the essence of your brand will not be reflected through the campaigns.
A strong brand makes you unique, initiates a connection with the consumers, and builds customer loyalty.
A strong brand is a foundation for its internal culture and marketing campaigns.
Are you looking to grow your business? Connect with the team at Ideaspice, a leading branding agency in Dubai. Write to them by clicking here or emailing at info@ideaspice.com. Alternatively, you can give them a call on +971 4 354 2920.