Ways Brands Can Provide Value During Turbulent Times
A brand is less of what it does but more of why it does, how it does, and the overall experience a customer feels after interacting with it.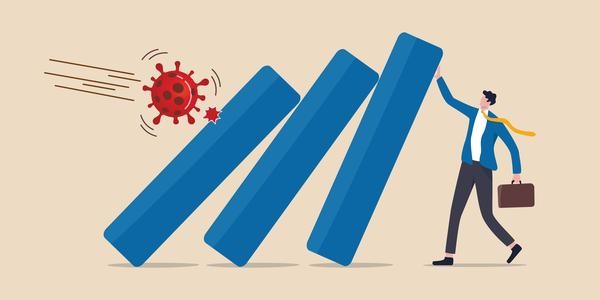 Bringing brand value to your audience during turbulence times. Source: Martech Advisor
It then becomes especially important during turbulent times, for the brand to navigate through the anguish that its customers and prospects are experiencing.
To understand how a brand can add value to its customers, we must understand the common branding mistakes and what it can do to correct them.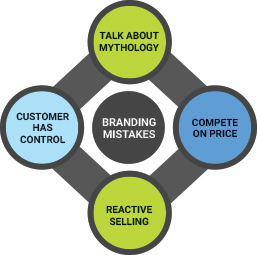 Common branding mistakes brands make. Source: Industry West Magazine
Talk about methodology – instead of talking about what a brand does, it is helpful to show customers how it benefits them, and how it can improve their situation. It is the responsibility of the brand to be proactive and inform the customers how doing business together will make them more successful.
Competing on price – a brand must emphasize on the difference between them and their competitors and how it can add value to the business. Increasing customer's return on investment by providing add-on services to the product will further enhance customer satisfaction. This way a brand will not need to compete on the "lowest price".
Reactive selling – People want to feel that they are heard and that you can add some value to their lives. Proactive selling married with empathy and the willingness to listen can prove to be extremely powerful especially in times of turbulence.
Customer control – During a crisis, customers already feel that they do not have control. A brand can take this as an opportunity and show its customers various ways through which it can help them achieve their goals and solve their challenges. By doing so, it gives them the range of choices in which they can work with you, thereby feeling in control.
Other Ways to Add Value to Customers
Brand authenticity – This refers to the magnitude of which customers believe the brand to be faithful, not only towards itself but also to its audience. A brand that is perceived to be reliable, respectful, and real, helps build brand engagement and brand loyalty. There are essentially four components to brand authenticity:

Continuity – a brand that survives time and trends that stays true to itself for it to be considered authentic in its truest sense
Credible – a brand that stays true to its customers can gain credibility in the market
Integrity – a brand that is caring and responsible and reflects a set of moral values
Representative – along with staying true to itself, a brand that is able to connect people is what matters
Also, a brand needs to hold itself accountable. Customers want to see a brand acting on its principles. In other words, its marketing initiatives must be aligned with its values.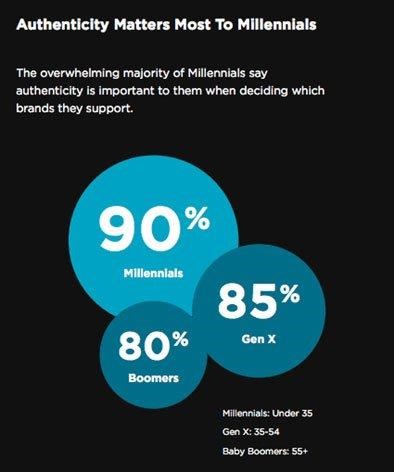 Authenticity matters the most to millennials. Source: History Factory
Build a community – Building a community allows a brand to bring together its network onto a single platform. This also builds trust amongst the customers that the brand is there for them during turbulent A community enables a brand's audience to feel a sense of belonging.
Are you a brand that is looking to add value to your customers?
Reach out to Ideaspice, one of the top branding agencies in Dubai, and get customized solutions to building an authentic brand that your customers can really resonate with. Write to them by clicking here or at sajith@ideaspice.com Alternatively, give them a call on +971 4 354 2920.